MM Jumpers Party Rentals Offer The Best Obstacle Course Rentals!
Who's ready to party? At MM Jumpers Party Rentals, you'll see some of the biggest and baddest inflatable obstacle course rentals in Salinas CA for those larger events. These awesome courses are ideal for larger events like company picnics, school carnivals, and church festivals. With sizes perfect to fit any sized event, our customers know they can rely on us when planning their events. Our inventory consists of some backyard-sized options all the way to ones that are over 100 ft long of obstacle challenges. We have all the latest and greatest of designs and combination options with the most challenging features available to keep your guests busy at those larger events for schools and churches, even backyard parties. The fun never ends with some of these cool inflatable obstacle courses because there are options for any age group or size setup area to choose from. It doesn't matter the type of party or how many kids because we have the fun to provide with our obstacle course rentals Salinas CA!
Over the years, we have provided challenging fun to hundreds of parties and events all over the Salinas, California area within Monterey County. It really does not matter if it is a children's birthday party in your backyard or at a local park because we have the perfect option for you. Planning an event for a local school and everything in between like church functions, corporate events, family reunions, daycares, and more? No problem, we have the huge 3-piece obstacle challenge which is sure to put your guests to the test. They are great to keep everyone entertained for hours because of the throughput being so many can go through faster than just bouncing on our jump castles.
We have taken care of plenty of events that had a need for entertaining kids ages 3 and up, even adults too. Take the challenge and race your opponent in a friendly competition to see who will make it to the end faster. A great way to promote some healthy activity at your event. Our inflatable obstacle course rental Salinas CA is the perfect way to keep them busy for hours without breaking the bank. Browse our selection for an obstacle course rental in Salinas and book our fun online today!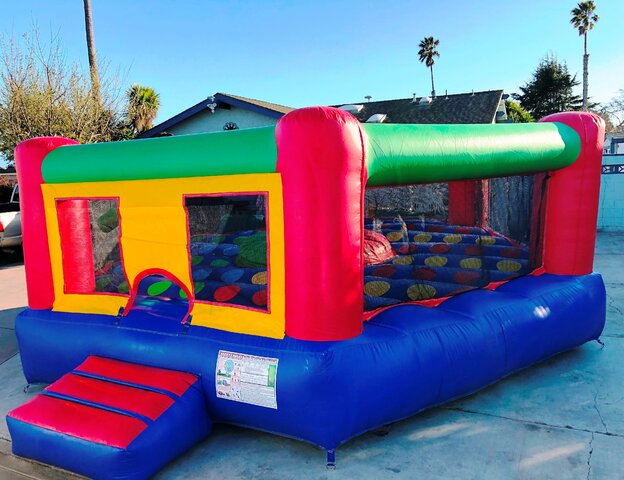 Feather Item
Joust arena/ Boxing ring
GLADIATORS get ready!!! Who will be the Joust champion??? Can you stay in the center of the ring without getting knocked off? This exciting inflatable pits two challengers against each other in a test of sheer determination! The jousting game is an interactive rental popular amongst teenagers and adults due to the game show American Gladiators. Great for large events and team building.
Book Now!
Plenty Of Inflatable Obstacle Courses Rentals In Salinas CA
Watch as players crawl through tunnels, scramble up the climb & slide, and navigate popup barriers. As much fun to watch as they are to play on because when it comes to fun, MM Jumpers Party Rentals sure knows how to party. We have plenty to choose from when it comes to obstacle courses in Salinas CA everyone can rely on for their events. Here you can expect to find some of the coolest variations for the most challenging of the inflatables ever made. We have sizes that are perfect to fit any scenario you have. Action-packed with tons of features and challenges they are great for kids of all ages. Either way, you look at it, at the end of the day, they all just translate to tons of fun for kids ages 3 and up. The best part is they are an all-around rental for any time of the year both cooler months and those warmer months.
Once inside, you will be faced with squeeze walls, obstacle pop-ups, horizontal logs, crawl tubes, climb walls, slides, and other challenging obstacles. Most of the obstacle courses feature a dry slide so if you want something for those hot summer months, then we suggest checking out our water slides. The fun never ends with these because as you get done, you just get back in line to do it again! Who knew our inflatable obstacle courses for rent in Salinas could be so much fun?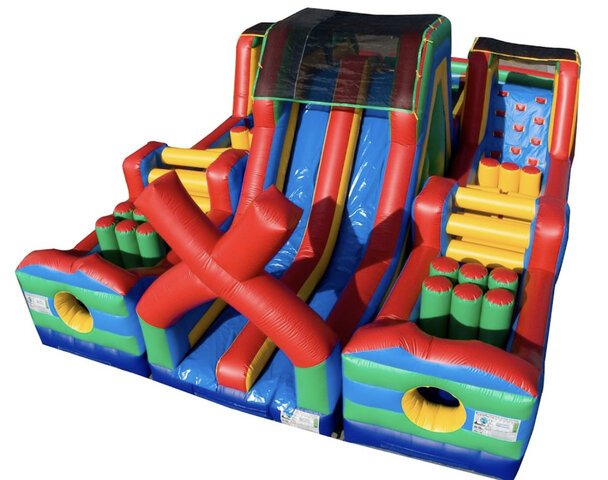 Extreme Rush obstacle course
The Extreme Rush is a perfect attraction to feature at any party, backyard parties and larger events alike. Its dual lane challenge allows for twice the fun for everyone at the party. This course offers more obstacles, slides and pop-ups compared to similar rides in the industry. The winding course of the Extreme Rush is designed to allow for more ease with a three-piece setup. Participants are sure to challenge each other endlessly on this course. The Extreme Rush allows for a fun environment to encourage competitive play and physical activity. Those who complete the course are sure to build confidence for better performance in other activities as well.
Book Now!
Do You Deliver Inflatable Obstacle Course Rentals Near Me?
The answer is
YES!
We are happy to deliver our rental items throughout the Salinas, CA area. MM Jumpers Party Rentals delivers to thousands of parties and events in the Salinas area each year. We have a huge inventory of party and event rentals to choose from including
Bounce Houses
,
Combo Bouncers
,
Obstacle Course
,
Dry
/
Wet Slides
,
Concessions & More
and don't forget to upgrade your party with any of our
Carnival Games
which are sure to be the highlight of any party or event. We also offer
Tents
,
Tables & Chairs
to make your party planning easier. Are you planning an event at a location that doesn't have access to electricity? No problem. We even have
generators
available for rent to provide the power needed at those locations.
Our Service Area
Proud to Serve The Following Areas:
If your party or event is beyond that radius, just let us know! We may be able to make special accommodations to suit your event.
NOTE: Fees may vary depending on how far you are outside our service area.
People Who Rented Obstacle Course Renatls Also Rented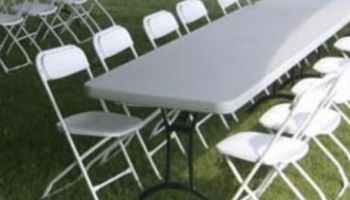 Tables & Chairs
Tables and chairs are the perfect addition to tent rentals. They are a great way to give your guests a place to sit and eat or just relax and get off their feet for a bit.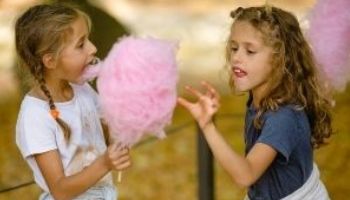 Party Snacks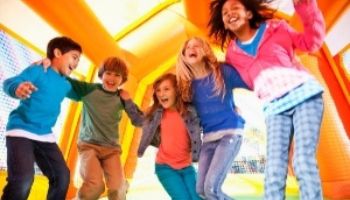 Bounce Houses
A bounce house is a great addition to any party or event. Everyone loves to bounce and we have a selection to choose from. We offer Bounce Houses for kids of all ages.


Frequently Asked Questions About Obstacle Course Rentals
Does the price include set and delivery?
Yes, although additional fees may apply for areas farther out. Remember prices do not include sales tax.
Do you deliver to other cities?
Yes, but once again please be aware that due to rising gas prices and the possible need for an extra truck and labor that travel fees can be quite high. Please call our office for a current quote.
Does the standard rental time include your set up time?
No. We arrive early to set up so you get the entire rental time to play.
That depends on how many rentals we have that day. Generally we arrive 1-3 hours before the rental time begins. If we have a lot of rentals that day, we may need to set up as early as 4 hours in advance. If this is the case, we will call the Friday before to confirm that someone will be at the party location.
We've rented some really dirty jumps from other companies in the past. Are they always that dirty?
No. The jump should be clean when you get it. MM Jumpers Party Rentals cleans and disinfects after every rental.