Water Slide Rentals In Prunedale From MM Jumpers Party Rentals
Water slide rentals in Prunedale CA are the ultimate centerpiece attraction at any summer event and will make a big impression on your guests. Just add kids and water for an awesome wet & wild summer celebration where your guests will arrive in shock and awe once they see what we have to offer. Let us bring the ultimate experience right to your backyard, school water days, family reunions, company picnics, church functions, community carnivals, and more. The opportunities are endless! Throw in some fun and exciting games for the adults to enjoy while the kids play for the ultimate party experience.
Over the years, MM Jumpers Party Rentals has delivered our water slide rentals Prunedale to parties and events all over over the govlink area within Monterey County. When it comes to finding a way for your guests to cool down then you have found the right answer. Our assortment of water slide rentals Prunedale CA has options for every age group. With some single lane and dual lane options for twice the fun, there is something for every type of event you can imagine. Our slides come with splash landing pools and large catch pools. Browse the selections below and click on the image or "more info" link to get any additional information and to make a reservation for your Prunedale water slide.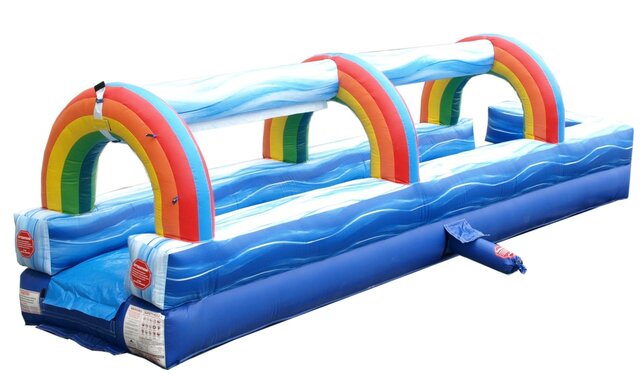 Featured Water Slide Rental In Prunedale
25' Blue Marble Inflatable Slip n Slide


Turn up the volume on good times in the hot summer heat with our 25' Blue Marble Inflatable Slip n Slide. This Slip N Slide should be at every outdoor party or event. This perfect stand-alone inflatable slip n slide is 25' long, is easy to set up and the built-in misting system connects to a standard garden hose. This inflatable has a bright, vibrant multi-color scheme that makes it a practical choice for both boys and girls of any age group.

Book Now!
Largest Inflatable WaterSlide Rentals In Prunedale
If you're ready to get wet n wild, then take a look at all of our water slides Prunedale kids go nuts over. We have some really cool offerings available to cool off this summer to beat that California heat. Anything from a water jumper or wet combo bouncer to standalone vertical water slides. Our inventory consists of all the latest and greatest in inflatable waterslides purchased from only the most reputable manufacturers in the industry. All our water slide rentals are manufactured from "lead-free" vinyl and are cleaned and sanitized before every rental.
We have sizes ranging from 12 feet tall up to 25 ft tall! Wow, that is a huge slide that is perfect for the teenager crowd which even comes with a little bit of an obstacle challenge. It can be a little intimidating for the younger ones but no worries because we have something for them too. Check out the smaller rear load slide or the 12ft fire Red Marble slide. Among those are the water combos which combine the cool bounce house or jumper with an all-in-one inflatable.
The good ole classic slip n slide but in an inflated version is hitting the streets by storm. Your guests will love the new version we have for the single-lane inflatable slip n slide. Even one that combined a slip n slide then a water slide all in one! Who knew these water slides could be so cool, right? Either way, we have something for everyone here at MM Jumpers Party Rentals.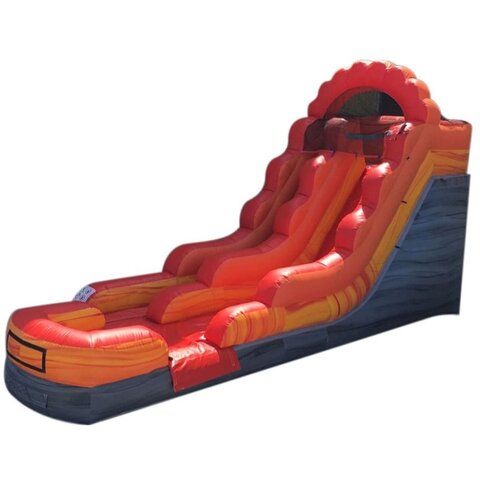 12' Fire Red Marble Inflatable Water Slide
Cool off from the summer heat with the 12' Fire Red Marble Inflatable Water Slide. This inflatable water slide provides fun and excitement to kids of all ages. With its gender-neutral colors, this versatile unit can be highly profitable at events catering to girls, boys, or both. Use this slide without water on a cool day to create some big smiles, or simply connect the built-in misting system to a standard garden hose on a hot day and slide down for some wet and wild fun! All of our inflatable wet and dry slides were designed with children's safety at heart, featuring an inflated landing zone with built-in drains that keeps the water level low enough for a good time, but safe enough for kids of all ages.
Book Now!
Why Choose Us For All Your Water Slide Rental in Prunedale?
For years, MM Jumpers Party Rentals has been providing some of the best water slide rental in Prunedale for customers all over Monterey County and surrounding areas. We are a locally owned and operated company right here in Salinas, California. Our company is fully licensed and insured with your guests in mind. We take safety very seriously when it comes to your children with our inflatable water slides in Prunedale. All our equipment is inspected, cleaned, and sanitized before and after each use. Our friendly delivery crew will come to your event location to set up all the equipment for you. All you need to do is just point them in the right direction to the setup area. We will briefly show you how to operate the jump houses rental items before we leave. After the event is over, we will come back to pick everything up. It's that easy!
There is a reason so many customers trust us for their parties and events because we have been providing amazing customer service for years. Each customer is treated like if it was our own party so we can guarantee everything will go as smoothly as possible. Don't take our word for it? Look at all our reviews Google. You'll quickly see we are locally loved in Prunedale, California.
Do You Deliver Inflatable Water Slide Rentals Near Prunedale?
The answer is
yes!
We are happy to deliver our rental items throughout the Prunedale CA area. MM Jumpers delivers to thousands of parties and events in the Prunedale area each year. We have a huge inventory of party and event rentals to choose from including
Bounce Houses
,
Combo Bouncers
,
Obstacle Course
,
Dry
/
Wet Slides
,
Concessions
and don't forget to upgrade your party with any of our
Carnival Games
which are sure to be the highlight of any party or event. We also offer
Tents
,
Tables & Chairs
to make your party planning easier. Are you planning an event at a location that doesn't have access to electricity? No problem. We even have
generators
available for rent to provide the power needed at those locations.
Our Service Area
Proud to Serve The Following Areas:
If your party or event is beyond that radius, just let us know! We may be able to make special accommodations to suit your event.
NOTE: Fees may vary depending on how far you are outside our service area.
https://www.google.com/maps/embed?pb=!1m18!1m12!1m3!1d102220.90054369642!2d-121.72864132350492!3d36.80885840780371!2m3!1f0!2f0!3f0!3m2!1i1024!2i768!4f13.1!3m3!1m2!1s0x808e005d96106001%3A0x79d40399ef04dc14!2sPrunedale%2C%20CA!5e0!3m2!1sen!2sus!4v1657896200580!5m2!1sen!2sus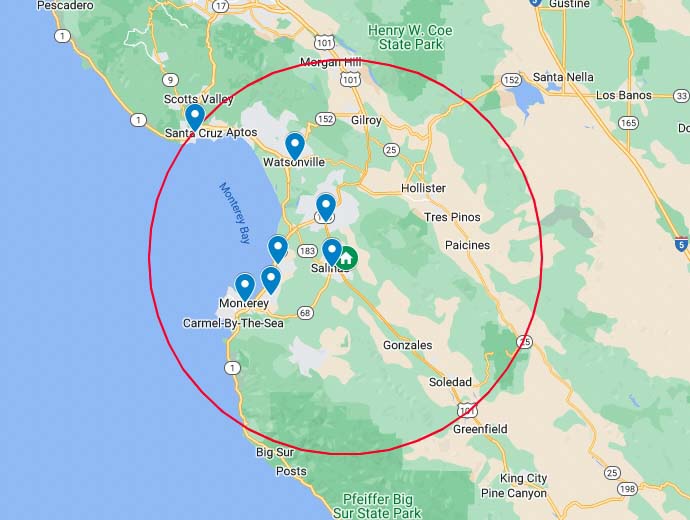 People In Prunedale Who Rented Inflatable Water Slide Also Rented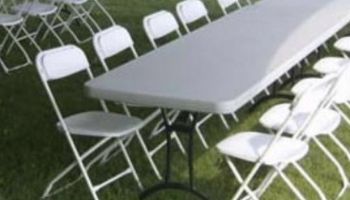 Tables & Chairs
Tables and chairs are the perfect addition to tent rentals. They are a great way to give your guests a place to sit and eat or just relax and get off their feet for a bit.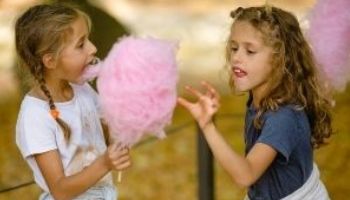 Party Snacks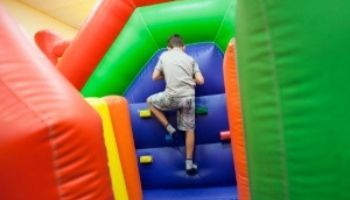 Obstacle Courses
Our obstacle courses are guaranteed fun for multiple people! Obstacle courses make great team-building activities for a company, sports team, or any group party!


Frequently Asked Questions About Water Slide Rentals
Does the price include set and delivery?
Yes, although additional fees may apply for areas farther out. Remember prices do not include sales tax.
Do you deliver to other cities?
Yes, but once again please be aware that due to rising gas prices and the possible need for an extra truck and labor that travel fees can be quite high. Please call our office for a current quote.
Does the standard rental time include your set up time?
No. We arrive early to set up so you get the entire rental time to play.
That depends on how many rentals we have that day. Generally we arrive 1-3 hours before the rental time begins. If we have a lot of rentals that day, we may need to set up as early as 4 hours in advance. If this is the case, we will call the Friday before to confirm that someone will be at the party location.
We've rented some really dirty jumps from other companies in the past. Are they always that dirty?
No. The jump should be clean when you get it. MM Jumpers Party Rentals cleans and disinfects after every rental.